Intermediate Art Lessons 2019-2020
Assignments
Assigned: Monday 3/30
Due: Monday 4/6
WEEK 3 OF SCHOOL CLOSURE
Surrealist Portrait & Sculpture Projects
Dear Intermediate Art Students,
Usually at this time in the semester, we are working on intricate colored light still life paintings and Baroque portraiture with photo shoots and such.
Since we are now working from home and cannot easily set up these atmospheres for project lessons, I would encourage you to continue to paint and to look up any resource tutorials on YouTube with regard to acrylic or watercolor color painting to enrich and build upon the processes you were working in previous lessons. This is the way of the artist! Artists feed themselves with the processes, mediums and subject matter that they are most intrigued with.
With that said, I have been doing some research and have compiled a couple of options for exploration for you this week, building upon your illustration assignment which was lightly grounded in surrealist intrigue and process. To take that a bit further, I have found a surrealist styled "Still-life/Portrait Painting" prompt, and also a surrealist styled "Ready-Made Sculpture" prompt that may interest you and inspire you to create this 3rd week of our school's closure.
Surrealist Still-Life Portrait-
Creating Faces from Unusual Juxtapositions of Objects:
Surreal Faces: Creating Faces from Unusual Juxtapositions of Objects
https://www.youtube.com/watch?v=CLvVr_OM1Ac
Portrait Painting Project - use whatever medium that you have access to - paint, colored pencil or marker and create a surrealist portrait similar to those shown in the video prompt above.
OR
Surrealist Ready-Made Sculpture-
How artists transform everyday objects |Surrealist & Modern Art Ideas:
Transforming Everyday Objects- Surrealists/Ready-Mades/Sculpture
https://www.youtube.com/watch?v=DCgWn8fFKAQ
Ready-Made Sculpture Project - find random 3-dimensional objects at home and juxtapose them together to create your own "ready-made" surrealist sculpture.
Post your creations on the MUHS Art Facebook page: https://www.facebook.com/MUHS-Art-262405480487011
Assigned: Monday 3/23
Due: Saturday 3/28
WEEK 2 OF SCHOOL CLOSURE
Assigned: Monday 3/16
Due: Friday 3/20
WEEK 1 OF SCHOOL CLOSURE
Work to Complete your Collaborative "Illustration & Poetry" Art Assignment
Hi Intermediate Art Students,
I wanted to reach out to you today and encourage you to continue working to complete your art pieces that are already in process and will be paired with Mr. McKeen's Senior English classes for the Collaborative Poetry / Illustration Assignment.
NOTE:
Continue to develop and expand upon what you had outlined in your planning sketches. Make sure you are using strong imagery and symbolism. Develop your ideas and compositions so that they provide intriguing imagery for Poetry writers to find inspiration. I have added some links to my Detwiler - Intermediate Art Week 1-Learning Resource Folder on the Mingus Union High School Website. You will find Learning Resource files for all your teachers represented there.
Please complete your Poetry Illustratioin assignments over this break and have them ready for me to scan when we get back to class. If you did not take projects home over the Spring Break, then please begin a new artwork, over this break using any medium that you may have in your home.
Also, any additional drawings that you wish to develop during this assignment can be used as another image for the book. Extra Credit points will be given for additional drawings you complete and turn-in upon return to school.
Please contact me via email: bdetwiler@muhs.com with any questions you may have.
I will be posting other ideas for Art Projects in days ahead to keep you engaged, entertained and learning. So check back at the end of the week.
Also, sketching of any kind is a good way to pass the time during the Shut down. Perhaps you may want to create a visual journal about your current experiences. All sketches and expressions may be considered for extra credit points.
Stay safe and well!
Ms. Detwiler

Assigned: Friday 2/21
Due: Friday 3/6
Art Illustration / Poetry Collaborative
In this collaborative assignment, Intermediate Art students will create a unique drawing, or painting, in the medium and size of their choosing. Their artwork will then be studied by Mr. McKeen's English 12 students, who will write poetry which has been inspired by the Intermediate Art students' illustrations.
Intermediate Art students are required to think deeply about the imagery they are providing for their peers. They will be discussing the ideas of Symbolism in Art throughout the assignment and how symbols in art convey meaning. They will view a PBS documentary entitled The Case for Surrealism which gives historical content to an art movement era asaurated in symbolism in both, Art and Literature.
Assignment Directives:
They may use watercolor, acrylic, chalk pastel, colored pencil, colored inks, or mixed media.
They may choose to work on substraits of: paper, canvas, wood or even use 3-Dimensional found objects or recycled materials, etc. for sculptural exploration in their art pieces.
Intermediate Art Students must provide a meaningful statement / prompt as description, intellectual content, or meaning to accompany their artworks. English students may launch off of these statements, or may choose to come up with their own interpretations.
NOTE:
Planning sketches are required for this assignment. They are worth 50 points and due by March 4th.
These Collaborative Illustration projects are due on March 23, and are worth a possible total of 100 points.
Assigned: Monday 2/24
Due: Friday 2/28
Class Critiques of Tonal Portraits
Students will engage in formal Critique exercise as a classroom project. Each student will present their completed Tonal Portraits and discuss the process of their portraits using artistic language and open Q & A dialogue.
Each student will answer 3 Questions in their presentations before their peers. These will include:
What do you feel is the most successful part of your painting?
What was the most challenging and difficult part of your painting?
What would you do differently if you could?
Student audience members wil record their own comments and observations during the critique process each day on a graphic organizer sheet which is a required part of critique participation.
Total Critique participation grade will be 25 points and students will be credited for their audience participation.
Assigned: Tuesday 1/28
Due: Thursday 2/20
Tonal Portrait with Social Justice Theme
In this lesson, students will be creating a portrait in the style of Contemporary Artist, Shepard Fairey. They will begin by selecting a photographic reference and then manipulate it with Adobe Photoshop or a similar digital filtering app to "posterize" the image to translate it into tonal value compostion. Tonal value means that the light and shadowed sections of the photo will become solid shapes of flat value. All gradient values present in the photos will be broken into strata of various tones of value - so as to display a composition with full range of value.
Students will then assess and ascribe an organized color scheme to their subject in order to create a pleasing and dynamic art work.
This assignment calls for an Analogous Color Scheme which includes 3 to 5 consecutive colors found next to each other on the color wheel. Students may choose a scheme that specifically includes warm colors (reds, oranges, yellows, and their tertiaries) or cool colors (violets, blues, greens, and their tertiaries). Or, they may elect to bridge their color scales to include both warm and cool colors.
Conceptual Direction for this assignment comes from contemporary Artist, Shepard Fairey. In these paintings, students will work to emmulate/ incorporate stylistic elements and influences from one of Fairey's "social justice" portrait series which also use tonal- flat value effects.
In the theme of Fairey's famous Obama "HOPE" Poster, "Women's March" or "We the Future" included in the Amplified Art Series, students will also be required to incorporate a word or a phrase into their Artwork to enhance the meaning of their chosen portrait subject.
During this lesson, students will watch and discuss the aclaimed documentary film Obey Giant, which features the life and controversial career path of Artist/Activist,Shepard Fairey. They will also read 2 position articles based upon Fairey's historic use of another artist's photo imagery in his Obama "Hope" poster. They will then write a paragraph stating their position on the use of copyrighted imagery- also known as appropriation. Paragraph is due on 2-7-2020.
Students will use Acrylic painting medium for this assignment.They may incorporate neutral tones of black and white paint to mix tints and shades of their chosen analogous color schemes for tonal value.
Students will need to have plastic containers to store paint they have mixed. Containers can be bought at area grociers or dollar stores, they are also available in class for a cost of 10cents each.
There will be a 50% for 50 point check in on Thurs. Feb 13th.
The final project will be due on Feb 20th.
Analogous Color Schemes are 3-5 colors in Sequence on the Color Wheel.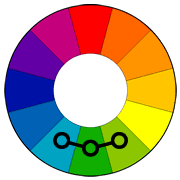 Assigned: Wednesday 1/15
Due: Monday 1/27
Monochromatic Portrait in Acrylic
Monochromatic Portrait in Acrylic Medium: Students will continue their color mixing skills learned earlier in the week and apply them to a Monochromatic Color Portrait Assignment, painted with acrylic medium on illustration board (provided by school) or canvas/canvas board (optional and provided by student).
An interesting Quote from The Daily Book of Art, by Marilyn Simandle, states: "Color gets all the credit, but Value does all the work!"
Value Scales are due no later than January 14th for full 60 points (15 points per scale).
Portraits are worth 100 points and are due on January 25th at the end of class time for a possible full 100 points.
There will be a 50% for 50 points Check-in on January 22nd.
Assigned: Monday 1/6
Due: Tuesday 1/14
Introduction to Acrylic Painting
Introduction to Acrylic Painting -
Acrylic Monochromatic Color Mixing Exercise: Students will begin the year working in a new medium of acrylics. Their first assignment will be a monochromatic color mixing exercise where they will choose a primary color (red, yellow, blue) and mix tints (add white) and shades (add black) to demonstrate the ability to mix a full range of value. This assignment is worth 60 points and must be completed prior to the monochromatic portrait painting exercise which follows.
Value Scales are due no later than January 14th for full 60 points (15 points per scale).
NOTE: Students will need to purchase plastic lidded small containers for the storage of their acrylic paints to prevent them from drying out. They are very different from watercolors and inks in that you cannot reconstitute them. Because of this, paint brushes must be washed out completely after each painting session in order to keep them in good working order. Students should also purchase a student grade set of acrylic paints (approx. $6 at Walmart) for this portion of the year as indicated on the Intermedicat Art Supply List. These paints will be for students home use. They are not required for classroom use. Students may also consider purchasing canvas or canvas board if they have an interest in painting on this surface.
WASH YOUR BRUSHES OUT COMPLETELY AFTER EACH PAINTING SESSON because the Acrylic paint will dry to a very hard clot and cannot be reconstituted, or even rinsed out as easily as inks and watercolors!!
Assigned: Tuesday 12/3
Due: Friday 12/20
Altered Book - Midterm Project
Intermediate Art Students will be working on Multimedia Art "Altered Book" Art Projects for their Midterm Assignments.
What is an Altered Book?
An Altered Book is a form of mixed media artwork that changes a book from its original form into a different form, altering its appearance and/or meaning. Some altered books change the shape of the book, or use multiple books in the creation of the finished art piece.
An Altered Book is an open ended project which allows for creative expression and problem solving to transform an ordinary hardbound book into and Artwork that may run the gamut from: a Creative Art Journal with muti-themed pages to explore...to a full-on Sculptural Artwork that transends the form and meaning of the book entirely.
Process:
Students must provide their own hard bound book from home or purchased from a local Thrift Store. They may also choose from limited resources of old refuse textbooks, available in the classroom on a first-come, first-serve basis. Size of Books chosen are up to the individual but must be approved by Teacher for structural soundness for project, so they do not fall apart in the process.

Students must design a solid planning sketch with supportive notes (based upon the size or theme/concept of the book they have chosen - in order to show the planning outline relating to the development of the creative process of their Altered Books. NOTE: It is anticipated that new ideas may surface during the entire process of constructing the books, but they must provide a starting place for their research and creative direction. Sketchbook/Notes are worth up to 100 points.

Student may use a variety of mediums: for example - paint, colored pencil, ink, Mod Podge, found papers or resources from old greeting cards, magazines, documents, and found objects to create their own unique book. They may layer mediums, incorporate pictures, and allow writings or poetry from the actual books to surface into their artworks.
Grading/Rubric:
The Altered Book Assignment is worth 1000 points (which is equivalent to 10 normal classroom assignments).
SWBAT- Demonstrate understanding of focal point and composition in their books = 250 points

SWBAT- show Contrast in their books, either thru Full Range of Value, Texture, Pattern, Color Schemes, etc. = 250 points

SWBAT- Good use of Material in their construction of their books = 250 points

SWBAT- Demonstrate Conceptual/Symbolism/Ephemera/Thematic development in their books = 250 points.
Altered Book Sketches are due on Dec. 9.
Final Projects are due on Finals Days of Dec. 19th & 20th.
Web Resource Pages to look at for development & inspiration:
Assigned: Wednesday 12/18
Due: Wednesday 12/18
Midterm Multiple-Choice Exam
Students will take a 15 Question Multiple-Choice Exam that covers Art foundations, Design elements, Color Theory and Painting Techniques covered over the course of the 1st Semester. This exam is worth 100 points.
Study Guide Attached in Link below.
Assigned: Friday 11/15
Due: Monday 12/2
Creative Word Painting/Drawing
Conceptual Word in Analogous Color Scheme
In this art assignment, student will be using an Analogous Color Scheme (colors that are next to each other on the color wheel) to create a painting or drawing that communicates a specific concept, idea or emotion.
A quick planning sketch is required and must be checked off before starting on larger paper format.
Students will choose a single conceptual word to convey a specific idea or emotion. They will then collect multiple source images (at least 3) as references to formulate their "idea picture" which conveys the concept they have chosen.
Students will select 3 - 5 Analogous colors from the color wheel which will best describe and enhance the overall mood or expression of their unique concept.
Students may selelct to work in the medium of their choice which may include: watercolor, chalk pastel, colored pencil or colored ink.
Students will show a full range of value in their color scheme by mixing a variety of tints, tones and shades to create the illusion of depth and space through value.
Remember, you are illustrating a concept, you are not drawing the actual word.
This project will be graded on:
Overall neatness and good use of materials.
Use and understanding of Analogous color scheme and color mixing (use of Black, White, and Gray to mix tints, shades, and tones).
Full Range of Value (this refers to the lightness and darkness of your colors - again tints, shades and tones).
Use of Rule of Thirds in constructing composition of your image on the picture plane..
Well-sourced subject matter to illustrate concept word which means at least 3 image references.
This Assignment is worth a total of 100 points.
There will be a 50% Check-in for 50 points on November 25th.
Projects are due on Monday December 2nd.
Assigned: Wednesday 10/23
Due: Wednesday 11/13
Dia De Los Muertos / Day of the Dead
Students will begin this colorful painting lesson by researching the rich cultural heritage of the Dia De Los Muertos / Day of the Dead Celebration.
They will spend 3 day in class researching on laptop computers to discover the unique iconograpy and history of the celebration. During this time they will take notes for essays and collect symbolic images for their essay and painting assignments.
Then, based upon what has been learned from their research, students will write a brief and concise 1-2 page / 3 - 5 paragraph essay to report on their findings. In their research they will need to discuss one unique artifact, artist, work of art, craft or creative culinary treat that is specifically connected to the festivities and the belief system that is indicative of the holiday. Students should print and include a photograph of the art or artifact to include with their short essay.
Writings should be formatted in MLA style and turned in by the end of class on Wednesday, October 31st. Value of Essay assignment is 100 points.
Then students will begin their "Day of the Dead" water medium paintings by working from an original photograph of either themselves or someone they know, preferably a family member, or friend in order to keep with the tradiition. Students will use watercolor or colored ink.
Students will do a Quick Planning Sketch in their sketchbooks to work out the symbolic imagery of their traditional or contemporary sugar skull design. This is not a detailed rendering. This is a rough sketch to layout composition and design elements. Students are strongly encouraged to grid their photos for a 1:1 Ratio Transfer onto Arches Water Medium Paper. Students should also take into account the Rule of Thirds when composing their photographs if possible.
Take a look at the artwork of well know Day of the Dead painter, Sylvia Ji by clicking on her name her in blue.
Sylvia Ji - "Alma Errante" (Wondering Soul) - 2012
Students will also learn about complimentary color and concepts in this lesson. Portrait paintings will incorporate one or more sets of complimentary colors ( primary/secondary or tertiary compliments) for decorative face painting based upon the "sugar skull" mask motif.
Students will have 2 weeks to complete the painting project which is due by the end of class on November 12th or the beginning of class on Nov. 13th
Project Objectives:
Students will be able to use complimentary colors effectively to show contrast and vibrancy in their paintings.
Students will be able to incorporate symbolism and iconography in their sugar skull portrait designs that conveys meaning to the person they have painted.
Students will be able to show good use of material and neatness in their art works.
Points for this project include:
100 points for Essay
50 points for Planning Sketch
100 points for Portrait paintings
This project will culminate in an informal classroom critique of students sharing their portraits with each other in a pair share format. Classroom Critique activity will take place during class on Nov. 13th, and 14th.
.
Assigned: Monday 9/30
Due: Friday 10/18
Skeleton Still-Life
Skeleton Chalk Pastel Still-Life Drawing:
In this lesson, students will be working to create dramatic, large-scale drawings/paintings in the richly hued medium of chalk pastel. The subject matter of this lesson will be from one of 3 installed anatomical "skeleton still-life" models positioned around the room. These skeletons are draped in richly colored fabrics and silk flowers.
Students will begin with a pencil planning sketch in their sketchbooks which must utilize the Rule of Thirds to organize dynamic compositions with well-defined focal points. Planning sketches are worth 50 points and must be completed before students begin their large pastel drawings on the Mein Temps paper.
Objectives:
- Use of Complimentary Color Schemes will be emphasized in this assignment. Complimentary pairs included: blue & orange, purple & yellow, red & green.
- Use of The Rule of Thirds- a composition tool for artists and photographers which divides the image and picture plane into thirds, both horizontally and vertically, and the subject of the image is then placed at the intersections of the dividing grid lines which are referred to as focal points, or along the grid lines themselves.
- Showing good Use of Materials / Mastery of the Medium which includes layering and blending of chalk medium; full range of value which depicts the dramatic light sources upon the subject matter; and general neatness in the finished project.
This drawing should take approx. 2 weeks to complete. Students are able to take their work home with them over the fall break should they desire to.
Last day to work in class on Skeleton Still-lifes is Friday, Oct. 18th. Drawings are due on Monday, Oct.21st.
Assignments are worth up to 100 points.
Planning sketch is required prior to work beginning large drawings. Sketch is worth a total of 50 points.
There will be a 50% Check-in for 50 points on Oct. 16th.
Assigned: Thursday 9/26
Due: Friday 9/27
Introduction to Chalk Pastels
Students will be introduced to the color drawing/painting medium of Chalk Pastel.
They will watch and draw along with a guided tutorial which demonstrates how to build up the surface of an a simple Apple Still-Life Drawing using a limited palatte of chalk pastel.
The Apple tutorial can be viewed on Youtube: https://www.youtube.com/watch?v=YknZrUE1SGI
This guided drawing is worth 50 Sketchbook points.
.
Assigned: Tuesday 9/10
Due: Wednesday 9/25
Cardboard Art Relief Portraits
Students will work to create a gridded, enlarged portrait in the recyclable and cutting edge medium of Cardboard Art. These portraits will have elements of add and take away processes to show dimension and negative space. There are many different approaches to this lesson which focuses on shape, shadow, contrast, and surfacing with a watercolor and pen and ink texturing.
Process:
Students will view a presentation of cardboard artists and art examples. They willl view Youtube videos showing artwork, interviews and studio processes & demonstrations by leading contemporary cardboard artists in the field today. They will then do a planning sketch of their ideas-related to the conceptualization and design of their own cardboard portrait artworks in their sketchbooks.
Students will begin with a portrait photo of their choosing. Both, people and animals are acceptable. Photos will be printed in class at 8" x 10" size.
Student will then grid photos in 1" x 1" squares. Please make precise measurements with rulers to ensure that your image will be well represented.
Students will then select a large flat piece of cardboard and grid their photo image onto it. They will make their photo image bigger by enlarging it to a 1":1 1/2" or an even bigger 1":2" ratio size using light lines for their grid and transferred photo image onto the cardboard picture plane.
Students will then problem solve and conceptualize how they want to execute and build up their own unique portrait design. They may choose to build out their portraits by

tearing or twisting cardboard strips for texture and volume, or basically

adding cardboard shapes with hot glue. They may want to cut away shapes in their image using Xacto knives or scissors. Negative space (a concept they learned in their Beginning Art Classes) also may play a major part in their designs.
After portraits are constructed, students will use a Neutral Colored Palette, with watercolor medium, to complete their Cardboard portraits, taking into account the use of the neutral cardboard's "brown" neutral background color and then adding black, white and greys and variations of colored neutrals they just mixed in their "Color Grid" team projects
Students may also incorporate contrast through:
stippling and crosshatching methods, using sharpie marker, as learned in previous lessons - to give added value, contrast & texture to enhance shadows and highlighted areas of their portraits.
Adding color for contrast through the use of "accent colors" chosen from their color grid painting assignments, or the use of "found color" from pre-printed scrap booking papers with color patterns.
Students may elect to look at the collected images gathered by Ms. Detwiler in a Pinterest Cardboard Portrait page or do their own research by Googling the topic of "cardboard art" for themselves.
They may also want to watch these Youtube videos highlighting specific leading Cardboard Art Artists:
What are Neutral Colors? Neutral colors contain equal parts of each of the three primary colors: red, blue and yellow. A neutral is defined as being a color of very low saturation, close to gray. Black, white, gray, and browns and beiges are considered to be neutral color. Neutral colors are also defined as those that do not exist on the Color Wheel.
Note: Due date for this assignment is projected as Oct. 24th and it is valued at a possible 150 points.
Objectives:
SWBAT - grid and enlarge their photo images with precision.
SWBAT - conceptualize their portraits with mastery in their perception of depth, shape, proportion and contrast according to that diplayed in their photo images as transferred onto their cardboard structures.
SWBAT - show good use of materials with regard to cutting clean lines, neatness and good understanding of the watercolor medium.
Assigned: Friday 9/27
Due: Saturday 9/7
Color Mixing Exercises: Wheels and Charts
Students will work on 2 assigned Color Mixing Exercises, using Water Color Medium in order to observe and familiarize themselves with the range of hues that can be created by mixing the variety of pigments in the classroom "palate" -selected for our Fall Semester.Intermediate Art painting assignments.
Color Wheel: To begin with students will create a compact sized, 7" x 7" color wheel which is comprised of primary, secondary and tertiary colors mixed from watercolor medium. This project will include 12 colors: Red, Blue, Yellow, Orange, Green, Violet, Red Violet, Red Orange, Blue Violet, Blue Green, Yellow Green and Yellow Orange; and will function as a rudimentary warm-up and introductory approach to color mixing and color relationships. Once the Color Wheel is complete, students will move onto a more complex grid chart of color swatches which will give them an even greater, indepth snap shot of the range of color choices that are literally at their fingertips.
Color Wheels are due at the end of Class on Thursday, Aug. 27th for a total of 25 points.
Color Grids will be due for progress grade / 50% check-in on Tuesday, Sept. 4th for a possible total of 50 points.
Color Grids are due for final check-in on, or before, Monday, Sept. 9th for a total of 75 points.
Assigned: Tuesday 8/13
Due: Tuesday 8/20
Monochromatic Emotional Self Portrait
Monochromatic Portrait Painting
In this assignment, students will continue to work in the mediums of watercolor and pen and ink. They will also revisit the process of "photo transfer" and "gridding techniques" which they learned in Beginning Art.
Students will select a portrait photograph to work from. It may be a self portrait, or a subject that they are familiar with - like a family member or a friend. Pets are acceptable but keep in mind that the details of fur can be challenging when it comes to establishing value washes in watercolor and texturizing with pen and ink techniques.
Initial Steps to the process are:
--Find a photo reference and grid it in 1 inch square.
--Transfer the photo image to water color paper with very light pencil marks so that they can be erased later. Image must be centered on the picture plane.
--Select one color hue of watercolor to work with for the portrait. There will be no use of black or white to augment your color range. Only water is used to create value tones. If you choose to mix a color, please make sure that you mix an adequate amount for you portrait so that you do not have mis-matched hues.
--Lay down a water lay on your paper to start, this is called a mask. Not too much water but enough to allow the color medium to move across the surface.
--Do your sketchbook value scales assignment as a practice before adding paint to your portraits.
--Finish paintings with texture and value using Sharpie Marker to create stippling and crosshatching value on your portrait, adding to the various values of color used.
Sketchbook Assignment: Due Thursday, 8/15. Value of 50 possible points:
1. Black, White and Grey Scale in Flat Scale Format
2. Black, White and Grey Scale in Gradient Scale Format
3. Monochromatic Watercolor Flat Value Scale (example: blue or red pigment)
4. Monochromatic Watercolor Gradient Scale (example: blue or red pigment)
Monochromatic Painting Assignment Due: TuesdayAugust 22th. Value of 100 points possible.
NOTE: Video Examples of Watercolor Painting processes for Home Watching on Youtube:
Assigned: Monday 8/5
Due: Monday 8/12
Rorschach Painting Lesson
Water Color Mixing & Sharpie Marker Techniques for Experimentation and Artistic Development
The first lesson of the year is loosely based upon the Rorschach Ink Test phenomina of the Mid 20th century. In this lesson, students will be introduced to the processes associated with watercolor medium and pen and ink drawing. Students will view a presentation of the concepts of the Rorshach Test and also examples and techniques developed. They will watch a TED talk titled "How does the Rorschach Inkblot Test Work?" and a short topical "Introduction to Surrealism" presentation. We will discuss works by Surrealist Artist, Salvador Dali, who worked with Rorschach in the early decades of the 20th Century as a method of creative inspiration. We will discuss the topic of the subconcious in Art and a technique, developed by Dali, called Paranoiac Critical Method.
Students will intuitively construct their own Rorschach ink blot paintings using yarn and thick water color paper. This "process oriented" exercise introduces students into the random nature of the tandem image and helps to lead and segway them into their own intuitive color mixing color mixing exercise with watercolor medium on arches paper. In this major painting assignent they will be blending primary colors to create a vast array of secondary and tertiary colored shapes & brush strokes. Student will then develop these paintings further by using thin black sharpie to pull out the hidden imagery they observe in their prints. This process relates to the Surrealist practice and Dali's Paranoid Critical Method. Students can begin with light pencil lines to sketch their initial images and intuitive findings. They then follow up with Black Sharpie Markers to accentute line and apply textures of stippling and crosshatching which will add value and shadow to the developing art pieces. This is a fun and experimental mixed-media process that produces imaginative and creative results for students who are just beginning to understand color theory and water medium application.
Sketchbook Assignment tor this Project: Students will create (2) 7-Step Value Scales in a 2" x 10 1/2" format using the mark-making techniques of stippling & crosshatching as texture; these can be done either in students' sketchbooks or on paper strips (provided in class) which may then be glued into the sketchbook.
This project begins on August 5th and is due on Aug. 13th.
Sketchbook assignment is worth 50 points and is due for grading by 8/7/19.
The Final Rorshach project is worth 100 points.
"STIPPLING" technique on this eye drawing.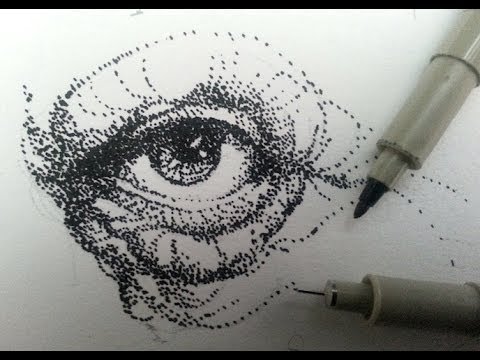 "CROSS-HATCHING" technique on this finger.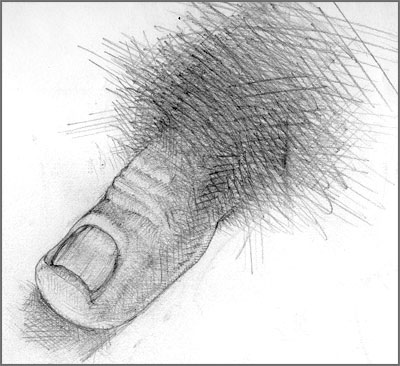 Rorschach Test Images: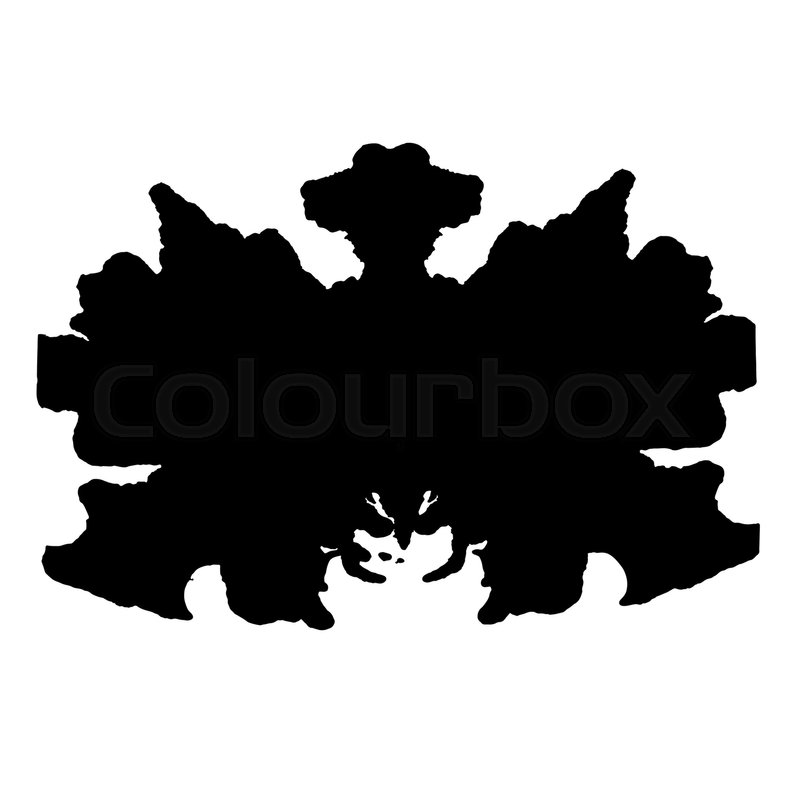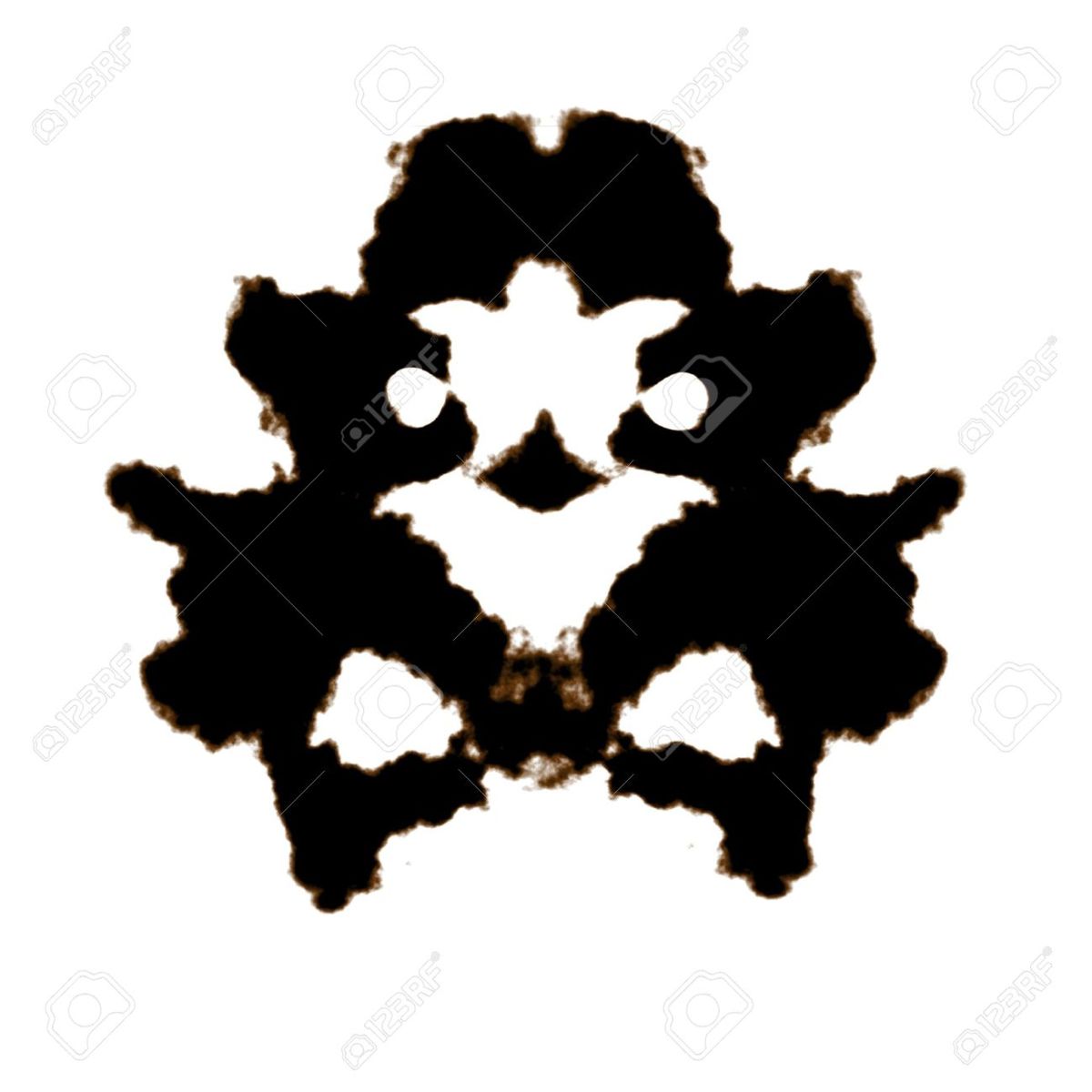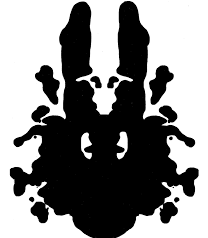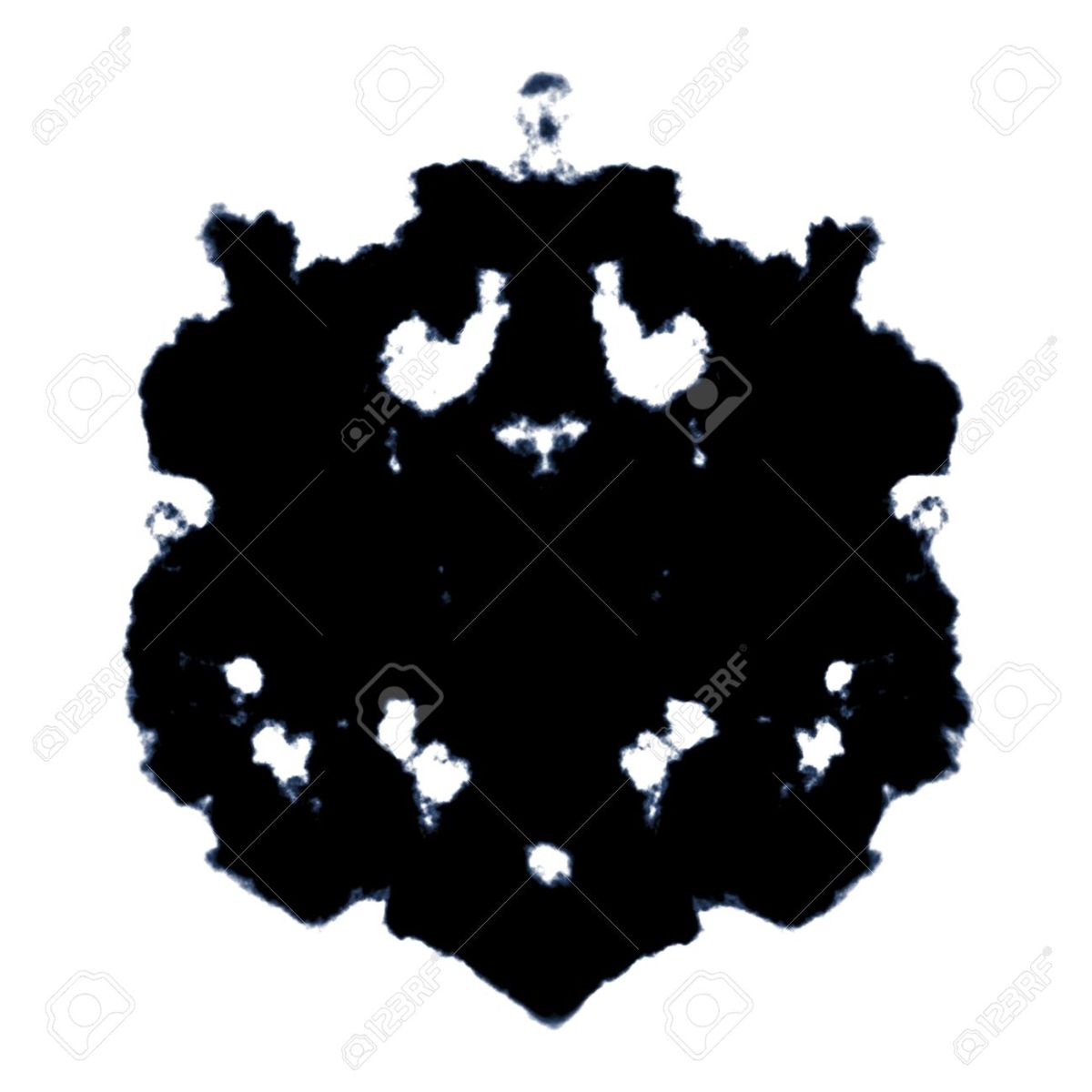 Just for Fun, watch this music Video, "Crazy" by Gnarles Barkley which animates Rorschach Tests to the beat of the music!
Assigned: Monday 8/5
Due: Friday 8/9
Parent/Student Syllabus Contract
A paper copy of the Parent & Student Contract / Syllabus will be handed out the first week of classes. This document will need to be reviewed and signed by both the student and their parent or guardian. A digital copy has been attached here below. Please return by August 9th for 10 extra credit points.
Assigned: Thursday 8/1
Due: Friday 8/9
Purchase Art Supplies
Intermediate Supply List
Sketchbooks and Art Supplies are required by the end of the 1st full week of classes, August 9th.
A printed copy of the supply list will be given out in class on the first day. Students will be using their own supplies when working on homework and sketchbook assignments outside of class. When in class, they may use the schools art supplies. Please do not take class supplies home, or remove from the classroom without permission.
See printable document of the Intermediate Art Supply List attached here below for your convenience.