Assignments
Assigned: Monday 5/6
Due: Thursday 5/23
Final Projects - Triptychs & Diptychs
Students will choose to do a Triptych or Diptych for their final projects.
Triptychs may be chosen to include Baroque portrait project.
Diptychs may be chosen if students elect to paint a stand-alone Baroque painting.
Project is work 300 points per panel and will also entail a planning sketch and 50 point planning sketch. Students will also have a 50% check-in for 50 points. Dates for these assignments will be posted in class on the white board calendar.
Size, subject matter, color scheme and medium for Diptychs are open-ended and may include: Watercolor, Pen & Ink, Acrylic, Colored Pencil, Mixed Media, or Chalk Pastel.
Size and subject matter for Triptychs are open-ended, but medium must conform to Baroque painting project which outlines Acrylic medium with a warm toned underpainting in burnt siena or burnt umber hues. These guideline will therefore pertain to all 3 panels unless an alternative has been approved by instructor.
NOTE: All panels must work together in a unified art expression but must also be able to stand alone.
Total Points for Final and Baroque projects with planning sketches and 50% check-in for progress accountability will total 1000 possible points.
See the Powerpoint attached below for more information on Triptychs/Diptychs.
Assigned: Friday 5/17
Due: Friday 5/17
Written Final Exam
Students will take a 30 "multiple-choice" question test to show what they have learned over the course of the year regarding Color Theory, and Beginning Painting processes and techniques.
This test is worth 100 points.
Assigned: Monday 4/29
Due: Monday 5/6
Modern Baroque Portrait Study
In this assignment, students will explore the historical reference to artworks made during the grand era of the Baroque period (17th & 18 centuries). In doing so, students will explore the imagery, drama, movement, symbolism, color and lighting of solitary and group portraiture created during this era (and also being revitalized in recent years - trending as the "Modern Baroque" Style in Fashion and Photography).
Student will be guided in this assignment by the following objectives which are scaffolded upon previous learning in recent units:
Students will be able to: Compose an engaging portrait/self portrait photo using the Rule of Thirds, with unique symbolism regarding costuming, props, hairstyles, etc.
Students will be able to: Create an underpainting value study/sketch in warm browns to begin this assignment.
Students will be able to: Mix and successfully apply tints and shades in the Acrylic pallet of their choosing to establish final full color values regarding shapes, shadows and highlights in their paintings.
This assignment will be executed in Acrylic paint medium and will require students to choose deep, rich, warm tones to align with historic, and contemporary Baroque stylings. Students may choose to paint on illustration board, masonite, canvas board or canvas. Illustration board is supplied in class, other surfaces are available for purchase at local retailers such as Walmart or Michaels. Masonite Boards are available from Ms. Detwiler for a minimal fee of $1 each.
Note:
Assignment is worth 100 points and can be gridded from photo reference, or free handed.

Attention to accuracy of facial proportions is essential to the success of this piece.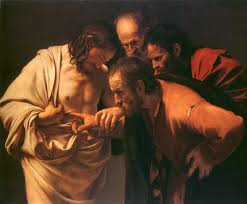 Assigned: Monday 4/8
Due: Friday 4/26
Reflected Colored Still Life
In this assignment students will be working with Acrylic Paint to execute still life compostions detailing the effects of colored light cast upon glass bottles, skulls and other objects.
Red, Blue, and Yellow primary colored lights will be directed upon still life arangements to create dramatic lighting and colored effects. In the crossing of the colored light beams, student will observe that secondary colors of purple, orange and green and tertiary colors of red-orange, red-violet, blue-violet, blue-green, yellow-green, yellow-orange are created.
Students will have a choice of cropping in on one of two still lifes in the classroom. They will use the Rule of Thirds to create a strong composition from the complex still life arrangements. Student must hone in on a specific area, including at least six objects in their picture plane. The ideal will be to have a good showing of several different color transitions in the painting composition.
The purpose of this lesson is to assist students in learning to see color as it is reflected in highlights, core shadows and cast shadows which fall upon objects and drappery to create dynamic effects and color schemes. Students will be able to utilize value and color in an "underpainting" exercise encased within the initial phases of their painting processes.
Objectives:
Students will be able to mix a color chart in acrylic paint as warm up to understanding color mixing, and tints & shades.
Students will be able to use the Rule of Thirds to create their painting compositions.
Students will be able to identify value in their still life painting by starting with a loose underpainting which depicts colored shapes with colored shadows.
Lesson Timeline:
Students will begin working on a color mixing assignment which focuses on creating a color chart using acrylic paint swatches in primary colors, secondary colors and the mixing of tints and shades associated with pure color hues..
After the color mixing exercise, students will focus on concepts involved in understanding the use of acrylic mediums to tone the painting surface prior to painting, as well as, the practices used in the underpainting process.
Students may also experiment with various types of acrylic mediums - as additives or varnishes which can enhance the painted surface. Mediums include: "gloss", "mat", and a thinner, more liquid "airbrush" medium will be discussed and demonstrated.
Students will begin planning sketches of their selected still life compositions which will make use of the Rule of Thirds. This exercise will be done in their sketchbooks using graphite and colored pencils, and must be finished prior to beginning their Reflected Colored Light Still Life paintings. Completed sketches are worth 50 points.
Once sketches have been checked, students will move on to create an "underpainting" which demonstrates an understanding of value in the their still life composition. They may use the acrylic color pigment of their choosing and also may choose their desired substrate of canvas, canvas board, masonite, thick water color paper, or illustration board.
Students will then work from life on their still life paintings to build surfaces of color which represent the overlapping color mixing in their chosen compositions.
This assignment is worth a total of 200 points (50 pts. for color chart, 50 pts. for color planning sketch, 100 for completed painting) and due on Friday Monday, April 29th. Final day to work on this assignment in class is Friday, April 26th.
Assigned: Monday 3/18
Due: Friday 3/29
Illustration / Poetry Collaborative Assignment
In this collaborative assignment, Intermediate Art students will create a unique drawing, or painting, in the medium and size of their choosing. Their artwork will then be studied by Mr. McKeen's English 12 students, who will write poetry which has been inspired by the Intermediate Art students' illustrations.
Intermediate Art students are required to think deeply about the imagery they are providing for their peers. They will be discussing the ideas of Symbolism in Art throughout the assignment and how symbols in art convey meaning. They will view a PBS documentary entitled The Case for Surrealism which gives historical content to an art movement era asaurated in symbolism in both, Art and Literature.
Assignment Directives:
They may use watercolor, acrylic, chalk pastel, colored pencil, colored inks, or mixed media.
They may choose to work on substraits of: paper, canvas, wood or even use 3-Dimensional found objects or recycled materials, etc. for sculptural exploration in their art pieces.
Intermediate Art Students must provide a meaningful statement / prompt as description, intellectual content, or meaning to accompany their artworks. English students may launch off of these statements, or may choose to come up with their own interpretations.
NOTE:
Planning sketches are required for this assignment. They are worth 50 points.
These Collaborative Illustration projects are due on Feb. 29th, and are worth possible total of 100 points.
Assigned: Monday 3/4
Due: Friday 3/8
Classroom Critiques
Art Critiques of Tonal Portraits
Intermediate Art Students will be participating in Classroom Critiques the week of March 4th-8th, prior to Spring Break.
They will present their recent "Tonal Portraits," (in the style of Shepard Fairey), and discuss their work using a series of refective questions which include:
How do you feel you were successful in your artwork? Or, what do you like most about your piece, and why?
How do you feel you were most challenged in this work? Or, what do you feel was the hardest part of this assignment, and why?
How would you revise your artwork? Or, what would you do differently in this piece if you could start over?
Students will also review 3 other classmates' critiques each day, as audience participation.
They will recieve daily points for these reveiws and can earn extra credit points if they choose to do additional work.
Points assessed for Critique Questionairre of 3 Questions = 15 points
Points assessed for Daily Reviews of 3 Critiques = 15 points per Day
Extra Credit points assessed per critique review = 5 points each
Assigned: Tuesday 2/26
Due: Friday 3/1
Shepard Fairey Read/Write
Shepard Fairey - Right or Wrong?
Students will watch the Hulu Documentary OBEY GIANT in class, which depicts the art career and rise of outspoken, controversial contemporary artist, Shepard Fairey. The documentary follows "the life and work of artist Shepard Fairey, going deep into the world of street art and its role in politics and pop culture. Obey Giant follows Fairey's rise from his roots in punk rock and skateboarding, to his role as one of the most well-known and influential street artists in the world - through his iconic Obama "HOPE" poster and the controversy that surrounds it.
In addition to the documentarty, students will read and discuss 2 artistic critiques which have been written about Fairey's work and practices of appropriation which have made news headlines in recent years. The topic of Fairey-Use, a modern day legal term which has emerged from Fairey's arguments for creative liscense in using the images of others artists and photographers will be fore front in the discussion.
Students will do a Paragraph writing assignment in class to share their own views as to whether Fairey's practices are ethical or plagerism.
Students will produce a minimum of one well written paragraph (at least 5 to 7 sentences with good grammar, structure and punctuation) conveying their opinions on his controversial message and artforms.
This assignment is worth up to 100 points and will be used as an AZ merit writing practice in Intermediate Art Classes.
Paragraphs must be submitted by March 4th in printed format from class computers or emailed to Ms. Detwiler at bcetwiler@muhs.com.
"Appropriation is the action of taking something for one's own use, typically without the owner's permission."
Assigned: Tuesday 1/29
Due: Friday 3/1
Tonal Portrait with Word
In this lesson, students will be creating a portrait in the style of Contemporary Artist, Shepard Fairey. They will begin by selecting a photographic reference and then manipulate it with Adobe Photoshop or a similar digital filtering app to "posterize" the image to translate it into tonal value compostion. Tonal value means that the light and shadowed sections of the photo will become solid shapes of flat value. All gradient values present in the photos will be broken into strata of various tones of value - blacks, whites and grays. Students will then assess and ascribe an organized color scheme to their subject in order to create a pleasing and dynamic art work.
This assignment calls for an Analogous Color Scheme which includes 3 to 5 consecutive colors found next to each other on the color wheel. Students may choose a scheme that specifically includes warm colors (reds, oranges, yellows, and their tertiaries) or cool colors (violets, blues, greens, and their tertiaries). Or, they may elect to bridge their color scales to include both warm and cool colors.
Conceptual Direction for this assignment comes from contemporary Artist, Shepard Fairey. In these paintings, students will work to emmulate/ incorporate stylistic elements and influences from Fairey's "social justice" portrait series which also use tonalized effects. In the theme of Fairey's famous Obama "HOPE" Poster, students will also incorporate a word or a phrase to enhance the meaning of their chosen subject.
During this lesson, students will watch and discuss the aclaimed documentary film Obey Giant, which features the life and controversial career path of Artist/Activist,Shepard Fairey.
Students will use Acrylic painting medium for this assignment.They may incorporate neutral tones of black and white paint to mix tints and shades of their chosen analogous color schemes for tonal value.
Students will need to have plastic containers to store paint they have mixed. Containers can be bought at area grociers or dollar stores, they are also available in class for a cost of 10cents each.
There will be a 50% for 50 point check in on Friday, Feb. 8
The famous painting Obama "HOPE" poster is an inspiration for this project. The photo image was posterized and painted by artist, Shepard Fairey. We will be studying, discussing and analyzing his work during this project after watching the documentary film "obey Giant" which offers insight into his life, work and evolving public persona.
Analogous Color Schemes are 3-5 colors in Sequence on the Color Wheel.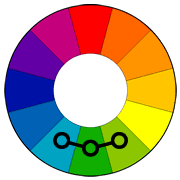 Assigned: Monday 1/7
Due: Friday 1/25
Painting with Acrylics
Introduction to Acrylic Painting -
Acrylic Monochromatic Color Mixing Exercise: Students will begin the year working in a new medium of acrylics. Their first assignment will be a monochromatic color mixing exercise where they will choose a primary color (red, yellow, blue) and mix tints (add white) and shades (add black) to demonstrate the ability to mix a full range of value. This assignment is worth 60 points and must be completed prior to the monochromatic portrait painting exercise which follows.
Monochromatic "Emotion" Portrait: Students will continue their color mixing skills learned earlier in the week and apply them to a Monochromatic Color "Emotion" Portrait Assignment, painted in acrylic on illustration board (provided by school) or canvas/canvas board (optional and provided by student).
An interesting Quote from The Daily Book of Art, by Marilyn Simandle, states: "Color gets all the credit, but Value does all the work!"
Value Scales are due no later than January 14th for full 60 points (15 points per scale).
Portraits are worth 100 points and are due on January 25th at the end of class time for a possible full 100 points.
There will be a 50% for 50 points Check-in on January 23rd.
NOTE: Students will need to purchase plastic lidded small containers for the storage of their acrylic paints to prevent them from drying out. They are very different from watercolors and inks in that you cannot reconstitute them. Because of this, paint brushes must be washed out completely after each painting session in order to keep them in good working order. Students should also purchase a student grade set of acrylic paints (approx. $6 at Walmart) for this portion of the year as indicated on the Intermedicat Art Supply List. These paints will be for students home use. They are not required for classroom use. Students may also consider purchasing canvas or canvas board if they have an interest in painting on this surface.
WASH YOUR BRUSHES OUT COMPLETELY AFTER EACH PAINTING SESSON because the Acrylic paint will dry to a very hard clot and cannot be reconstituted, or even rinsed out as easily as inks and watercolors!!
Assigned: Monday 12/3
Due: Friday 12/21
Midterm Painting Assignment
Conceptual Word in Analogous Color Scheme
In this art assignment, student will be using an Analogous Color Scheme (colors that are next to each other on the color wheel) to create a painting or drawing that communicates a specific concept, idea or emotion.
A quick planning sketch is required and must be checked off before starting on larger paper format.
Students will choose a single conceptual word to convey a specific idea or emotion. They will then collect multiple source images as references to formulate their "idea picture" which conveys the concept they have chosen.
Students will select 3 - 5 Analogous colors from the color wheel which will best describe and enhance the overall mood or expression of their unique concept.
Students may selelct to work in the medium of their choice which may include: watercolor, chalk pastel, or colored ink.
Students will show a full range of value in their color scheme by mixing a variety of tints, tones and shades to create the illusion of depth and space through value.
Remember, you are illustrating a concept, you are not drawing the actual word.
This project will be graded on:
Overall neatness and good use of materials.
Use and understanding of Analogous color scheme and color mixing (use of Black, White, and Gray to mix tints, shades, and tones).
Full Range of Value (this refers to the lightness and darkness of your colors - again tints, shades and tones).
Use of Rule of Thirds in constructing composition of your image on the picture plane..
Well-sourced subject matter to illustrate concept word which means at least 3 image references.
This Assignment is worth a total of 1000 points.
There will be a 50% Check-in for 50 points on December 14th.
It must be handed in no later than Dec. 21st.
We will also have a Written Midterm- Multiple Choice Exam on December 14th.

Assigned: Thursday 10/25
Due: Wednesday 11/14
Dia De Los Muertos
Students will begin this colorful painting lesson by researching the rich cultural heritage of the Dia De Los Muertos / Day of the Dead Celebration.
They will spend 3 day in class researching on laptop computers to discover the unique iconograpy and history of the celebration. During this time they will take notes for essays and collect symbolic images for their essay and painting assignments.
Then, based upon what has been learned from their research, students will write a brief and concise 1-2 page / 3 - 5 paragraph essay to report on their findings. In their research they will need to discuss one unique artifact, artist, work of art, craft or creative culinary treat that is specifically connected to the festivities and the belief system that is indicative of the holiday. Students should print and include a photograph of the art or artifact to include with their short essay.
Writings should be formatted in MLA style and turned in by the end of class on Wednesday, October 31st. Value of Essay assignment is 100 points.
Then students will begin their "Day of the Dead" water medium paintings by working from an original photograph of either themselves or someone they know, preferably a family member, or friend in order to keep with the tradiition. Students will use watercolor or colored ink.
Students will do a Quick Planning Sketch in their sketchbooks to work out the symbolic imagery of their traditional or contemporary sugar skull design. This is not a detailed rendering. This is a rough sketch to layout composition and design elements. Students are strongly encouraged to grid their photos for a 1:1 Ratio Transfer onto Arches Water Medium Paper. Students should also take into account the Rule of Thirds when composing their photographs if possible.
Take a look at the artwork of well know Day of the Dead painter, Sylvia Ji by clicking on her name her in blue.
Sylvia Ji - "Alma Errante" (Wondering Soul) - 2012
Students will also learn about complimentary color and concepts in this lesson. Portrait paintings will incorporate one or more sets of complimentary colors ( primary/secondary or tertiary compliments) for decorative face painting based upon the "sugar skull" mask motif.
Students will have 2 weeks to complete the entire project which is due by the end of class on November 13th.
There will be a midway project check-in for 50% completion on Nov. 8th for 50 points.
The Portrait Painting is worth up to 100 points.
This project will culminate in a classroom critique of portraits and essay topics. Critiques will be worth 50 points (25 for portrait and 25 for essay topic) and will begin on November 14. Please be ready to present.
Point Total for this projects is 300 points.
Assigned: Thursday 9/27
Due: Friday 10/19
Skeleton Floral Still Life in Chalk Pastels
Sept. 27 - Oct. 19:
In this lesson Students will be working in the medium of Chalk Pastels to create dramatic, colorful, large-scale drawings on pastel-hued Mi-Tientes charcoal papers. The subject matter of this lesson will be comprised of anatomical skeleton models which have been drapped in fabrics and bright colored silk flowers. The Skeleton Still Life compositions will be arranged by students in both 4th &5th hour Intermediate art classes.
--The focus of the project is to establish well planned out "value" in the chalk-pastel color medium. This will be done by focusing on the colored high-lights, colored low lights and colored cast shadows in the still-life objects.
--The use of complimentary colors is also a major factor in this assignment. Students must focus in on a well composed portion of one of several skeleton still-lifes in the room (using the Rule of Thirds) to capture a composition that includes one, or more pairs of compliment colors that are displayed in objects adjacent to one another (ie. blue & orange, red & green, or yellow & purple).
Students will be graded upon:
- Use of complimentary colors
- Understanding/ Use / Mastery of the Chalk Pastel Medium and overall Neatness in their final product.
- Rule of Thirds
-Neatness in their final product.
This drawing will take 1 1/2 to 2 weeks to complete. Students will be able to take it home over the fall break should they desire.
The drawings will be due on Oct 19th.
It is worth up to 100 points.
Planning Sketch is required prior to work on large paper. It is worth 50 points.
Assigned: Thursday 9/20
Due: Tuesday 9/25
Chalk Pastel Still Life Drawing
This week students will be working from a natural still life that has been dramatically spotlit to reveal a variety high light and low light effects. We will be discussing:
View finders (which help to capture composition)

The rule of thirds (the most useful composition technique used by photographers and artists)

Full range of values and color mixing to achieve volume and richness of depth in their paintings.
The Objectives for this exercise include:
Students will be able to create a chalk pastel drawing using the Rule of Theirds as a means to organize their composition
Students will identify and select elements of design to creat a dynamic compositioin within their own work.
Students will be able to create a drawing using a full range of values.
Students will be able to use art tools and art materials effectively within their own artwork.
Students will gain experience working with chalk pastel and color mising with the medium.
This project is due on Sept. 27th and is worth 50 points. Extra Still Life studies will be given Extra Credit Points,
This will be the sketchbook assignment for the Chalk Pastel Skeleton Floral Still Life Drawing which follows.
Assigned: Tuesday 9/4
Due: Friday 9/14
Body in Motion
In this lesson, students will continue working with Watercolor, or Pen and Ink washes. The Body in Motion assignment allows for exploration into the design and development of a figurative art piece which utilizes skills of drawing & painting, and stippling & cross hatching to expand student's knowledge in the study of form & value. Students will research, and select their own personal photo, or may use available stock photos which best describe the human body in motion, for them. References from Google Images are acceptable and topic searches may include a variety of activities such as: athletics, dance, acrobatics, yoga, gymnastics, hiking, biking, swimming, climbing, jumping, running, skateboarding, bungie jumping, laughing, singing, playing and instrument, and others.
Students will begin by creating a Planning Sketch in their sketchbooks which will focus specifically on:
the Proportions of the Body in Motion

the Range of Values present in the Body in Motion

the direction of the Light Source and how it highlights and shades the Body in Motion

the Musculature and Posture of their Body in Motion.
After the initial sketch, students will move on to execute a larger-scaled, pencil rendering of their figure on a 22" x 15" sheet of Arches Water Color Paper. The use of the gridding technique (in a 1" to 1 1/2" ratio) will be helpful to enlarge the photos.
Note: Students may elect to work in a monochromatic color scheme as they have done in their previous portrait paintings, or they may choose to incorporate other colors into their pieces, the objective is to best explore and develop a sense of value, depth, dimension and balance. Students may elect to use pen and colored ink, or black sharpie marker to increase texture and dimension, through cross-hatching and stippling.
Grading: Students will be evaluated upon: (1.) their use of proportion in drawing the human body, (2.) their ability to create a full range of values through the use of watercolor and ink-wash work, cross-hatching and stippling techniques (3.) cleanliness and mastery of art materials which will also include the ability to enlarge their photo from a 1" to a 1 1/2" ratio size proportioned grid onto their watercolor paper prior to painting.
-Body in Motion is worth 100 points and due on Friday, Sept. 14th.
-Planning Sketch is worth 50 points and due for check-in on Tuesday, Sept. 7th.
Assigned: Wednesday 8/15
Due: Friday 8/31
Monochromatic Watercolor Portrait Painting
Monochromatic Portrait Painting (Aug. 15 - 28)
In this assignment, students will continue to work in the mediums of watercolor and pen and ink. They will also revisit the process of "photo transfer" and "gridding techniques" which they learned in Beginning Art.
Students will select a portrait photograph to work from. It may be a self portrait, or a subject that they are familiar with - like a family member or a friend. Pets are acceptable but keep in mind that the details of fur can be challenging when it comes to establishing value washes in watercolor and texturizing with pen and ink techniques.
Initial Steps to the process are:
--Find a photo reference and grid it in 1 inch square.
--Transfer the photo image to water color paper with very light pencil marks so that they can be erased later. Image must be centered on the picture plane.
--Select one color hue of watercolor to work with for the portrait. There will be no use of black or white to augment your color range. Only water is used to create value tones. If you choose to mix a color, please make sure that you mix an adequate amount for you portrait so that you do not have mis-matched hues.
--Do your sketchbook value scales assignment as a practice before adding paint to your portraits.
--Finish paintings with texture and value using Sharpie Marker to create stippling and crosshatching value on your portrait, adding to the various values of color used.
Sketchbook Assignment: Due Aug 21st. Value of 60 possible points:
1. Black, White and Grey Scale in Flat Scale Format
2. Black, White and Grey Scale in Gradient Scale Format
3. Monochromatic Watercolor Flat Value Scale
4. Monochromatic Watercolor Gradient Scale
Monochromatic Painting Assignment Due: August 31st. Value of 100 points possible.
Assigned: Friday 8/3
Due: Friday 8/17
Rorschach Test - Paranoid Critical Method -
Using Water Color Mixing & Sharpie Marker for Experimentation and Artistic Development
The first lesson of the year is loosely based upon the Rorschach Ink Test phenomina of the Mid 20th century. In this lesson, students will be introduced to the processes associated with watercolor medium and pen and ink drawing. Students will view a presentation of the concepts of the Rorshach Test and also examples and techniques developed. We will discuss works by Surrealist Artist, Salvador Dali, who worked with Rorschach in the early decades of the 20th Century as a method of creative inspiration. We will discuss the topic of the subconcious in Art and a technique, developed by Dali, called Paranoiac Critical Method.
Students will intuitively construct their own Rorschach ink painting through a color mixing exercise in the watercolor medium on arches paper, blending primary colors. Student will then develop these paintings further by using thin black sharpie to pull out the hidden imagery they observe in their prints. Black Sharpie Markers with be used to accentute line and apply textures of stippling and crosshatching which will add value and shadow to the developing art pieces. This is a fun and experimental mixed-media process that produces imaginative and creative results for students who are just beginning to understand color theory and water medium application.
Sketchbook Assignment tor this Project: Students will create (2) Ten-Step Value Scales in a 1"x 10" format using the mark-making techniques of stippling & crosshatching as texture; these can be done either in students' sketchbooks or on paper strips (provided in class) which may then be glued into the sketchbook.
This project begins on August 3rd and is due on Aug. 17th.
Sketchbook assignment is worth 50 points.
The Final Rorshach project is worth 100 points.
"STIPPLING" technique on this eye drawing.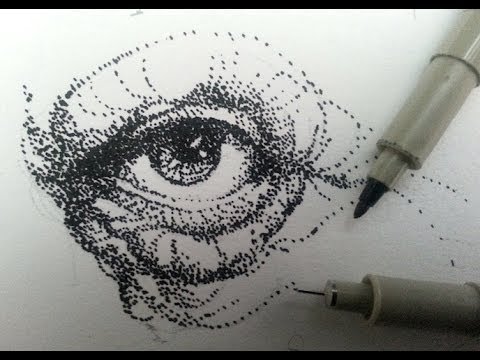 "CROSS-HATCHING" technique on this finger.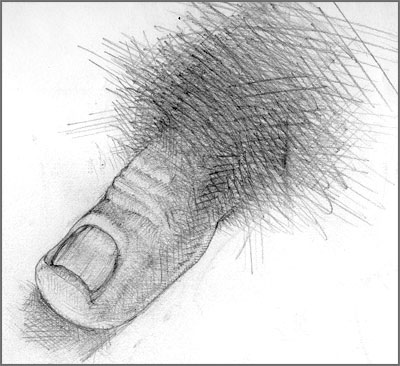 Rorschach Test Images: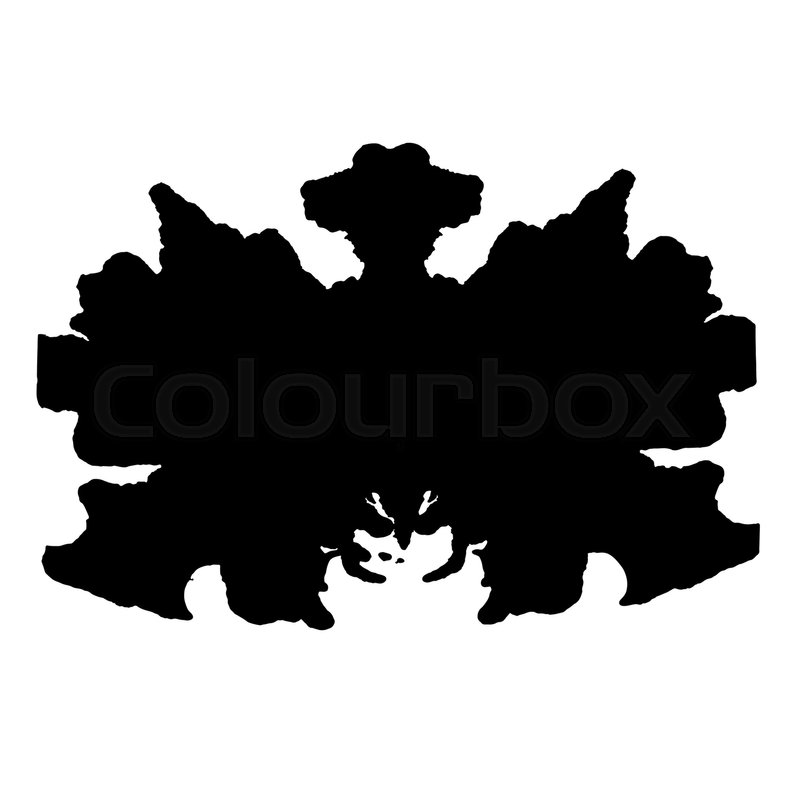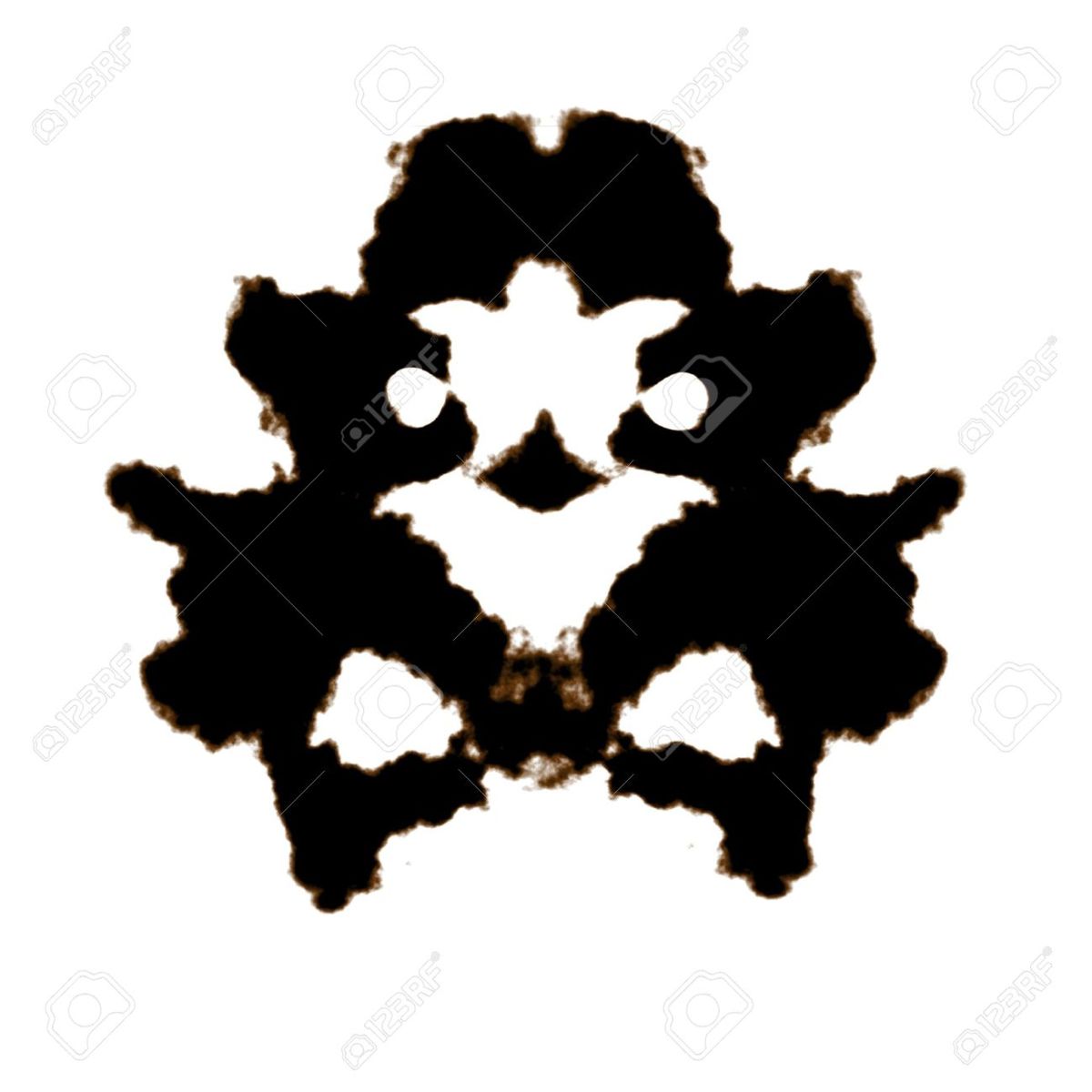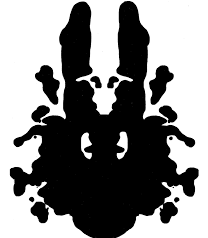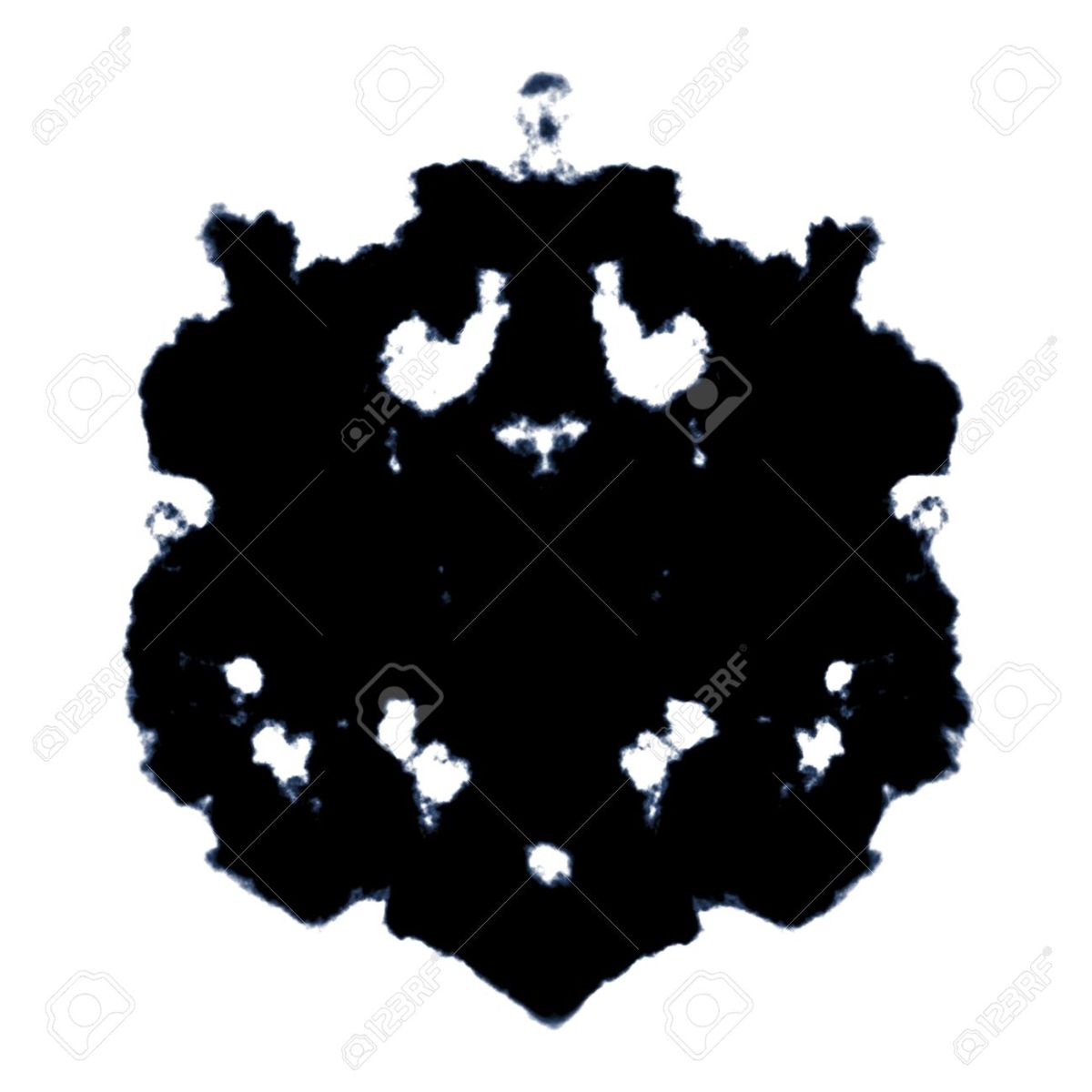 Assigned: Thursday 8/2
Due: Friday 8/17
Intermediate Art - Parent / Student Contract
The PARENT / STUDENT CONTRACT is an overview of classroom rules and proceedures that students are required to follow. It is basically an agreement outlining what is expected behaviorally and academically of students in the Art classroom environment. The contract will be sent home with students on the first day of school for parents to review with their students. Contracts must be signed by both, parents and students and returned by August 17th for 10 extra credit points. Contracts are manditory - so get them in early to score points.
For your convenience, please see an attached PDF of the Parent Contract posted here below for easy printing.
Assigned: Thursday 8/2
Due: Friday 8/17
Intermediate Art Supplies
ART SUPPLIES are required by the end of the 2nd week of classes. A printed supply list copy will be given out in class on the first day of school. You will be using your supplies when working on your homework and sketchbook assignments outside of class, off campus. When in class, you may elect to use the school art supplies provided.
Students who have their supplies purchased and in class by Aug. 17th will recieve 10 extra credit bonus points in the gradebook!
See a printable PDF file of Intermediate Art Supply List attached here below for your convenience. A paper copy will be handed out in class on the first day of school.